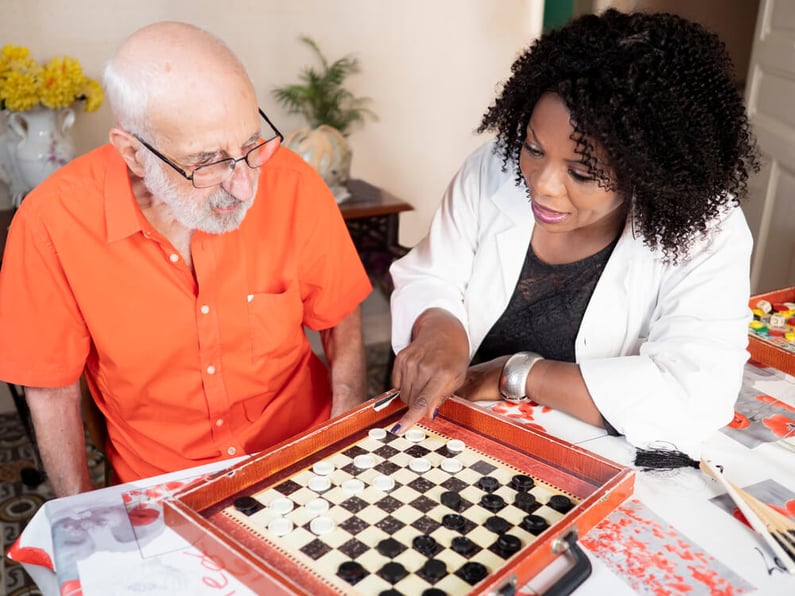 Short staffing is a problem for most senior living communities. Even before the pandemic, staff shortages were common — but since the issue has magnified, 81% of communities currently lack workers, and more than 85 million jobs are projected to go unfilled by 2030. The solution is recruitment marketing for senior living.
Senior living recruitment marketing strategies can benefit your community in several ways: it improves the quality of applicants, reduces the cost per hire, increases diversity, and gets difficult positions filled. Whether for your reputation or the care of the residents, the importance of a fully staffed community cannot be underestimated.
To help you find high-quality candidates during a talent shortage, here are our top tips on how to start a recruitment marketing campaign and leverage it to fully staff your community.

What is Recruitment Marketing?
Recruitment marketing is an important strategy businesses use to promote their brand and attract quality applicants to their open positions. The concept behind it is that you can attract the right people to your business by:
Why Recruitment is Absolutely Vital for Senior Living Communities
A solid recruitment strategy may be important to all businesses in all industries, but it's especially crucial to the success of senior living communities. After all, you need to hire and retain staff for everything to run smoothly and for residents to be adequately taken care of in your community.
Employee Turnover Can be as High as 50%
The senior population is expected to double over the next two decades, and your community must be equipped with the necessary talent to meet your target audience's growing needs. Unfulfilled positions mean fewer residents you can take in or insufficient care. Keeping employee turnover in check, which recruitment marketing will do, can make a significant difference during talent shortages.
Short-Staffed Communities Struggle to Maintain Great Reputations
Reputation management is essential for senior living, but fewer workers mean levels of care, sanitation, and administrative duties are lessened. Competition is high among communities, and people will talk if you're not providing the care you promote—leverage recruitment marketing to get more people working in assisted living in your community to overcome this hardship.
Recruiting Strategies for Careers in the Senior Living Industry
The hardest part of any great recruiting strategy is getting started. So, here are six essential steps to recruiting workers in all types of jobs in assisted living homes and communities.
1. Define Your Campaign Goals
Those that set marketing campaign goals are 376% more likely to achieve their desired results. So, before you deliver any recruitment marketing tactics and strategies, you must first clearly define your goals. This will not only give team members a frame of reference to keep every tactic on point and consistent with the brand, but it will also allow you to track and measure success to inform future recruitment opportunities.
2. Identify Your Ideal Target Candidates
For senior living communities, your ideal target candidates often include:
Skilled healthcare workers, such as nurses, resident assistants, aides, etc.

Administrative staff such as community directors and sales directors

Senior living community employees such as drivers, chefs, housekeepers, waitstaff, bussers, etc.
Who you target in your recruitment will depend on the positions you need to fill. Make your ad content and messaging relevant to that candidate to better resonate with them.
3. Define Your Brand's Values and Mission
Defining your brand's values and missions — and, more importantly, putting them into writing for reference — is crucial to the success of attracting and retaining skilled workers. Not only do more job seekers look for brands that share their values, but it's also a huge benefit to your community. This is because it ensures all your new hires and their colleagues share the same principles and work attitudes, which leads to higher productivity and more satisfied employees.
4. Create Recruitment Marketing Content
Once you know who in your target audience you're trying to reach and have clearly defined your values and mission, it is time to create content that embraces that insight. For instance, when reaching skilled healthcare workers, it can be beneficial to incorporate the good they could do for seniors while highlighting that you value a healthy work-life balance (a huge issue in healthcare).
5. Optimize Your Website to make Your Career Page more Accessible
Did you know that 80% of all job searches begin online? Having an optimized website will help you rank higher and be seen by job seekers looking for positions you have open. Take, for instance, chefs, waitstaff, and bussers. At least 26% of restaurants are actively looking for cooks and servers. That's a lot of competition, so by highlighting a positive work environment (a significant struggle in the industry) in your location on your website career page, you can reach more people searching for similar roles 'near me' on Google and other search engines.
6. Use Social Media to Your Advantage
More than half of the global population is on social media and is open to connecting with brands and employers. In fact, it's the hotspot for reaching and resonating with important consumers and job seekers in your target audience.
According to senior living research, the following platforms are beneficial for each group of community candidates:
Skilled Healthcare Workers

— recruit through Indeed, Zip Recruiter, Career Builder, Nurse.com

Administrative Staff

— LinkedIn is the best recruitment resource/tactic

Senior Living Community Employees

— social media recruitment
McClatchy: Your Greatest Leverage in Recruitment Marketing
Recruitment marketing may be the best tactic for finding, attracting, and retaining top talent, but it is also one of the most challenging strategies to execute successfully.
Trying to reach recruitment marketing goals alone could mean more trial and error in learning from your mistakes and improving your strategies. Working with McClatchy, who has an entire team of experts dedicated to the senior living industry means there will be no guesswork, and you'll have access to our specific audiences for your next campaign.