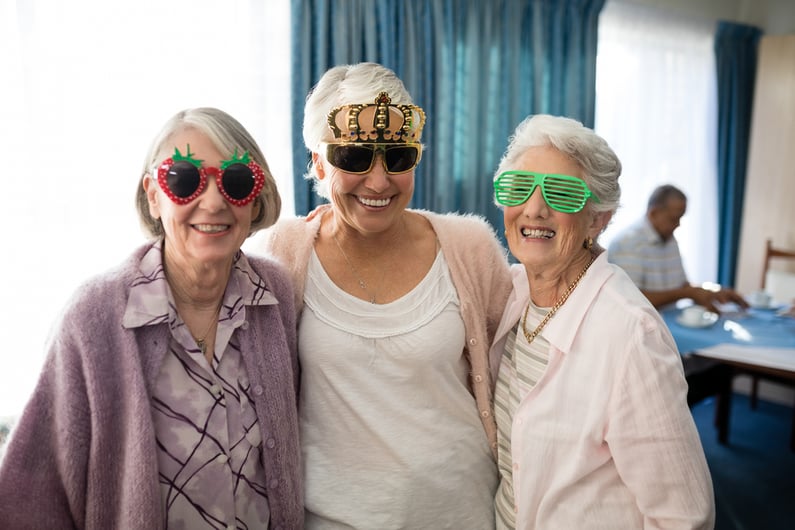 Let's be honest, marketing senior living communities can be challenging.
Increasing occupancy for assisted living requires establishing and maintaining trust among those who will stay there as well as their loved ones. And as of right now, studies show that at least 41% of people don't trust assisted living and nursing homes to keep them and their loved ones safe despite 7 in 10 people requiring assisted living care in their lifetime.
This is why effective marketing strategies for independent living communities now include audience segmentation research in their senior care marketing plan. It boosts awareness, familiarity with your community, and trust. It's important to market to seniors and their children and our top tips on segmenting a target audience for the best results.

Why is Marketing so Essential to Senior Care?
In a market where trust is essential to getting business, there are many reasons why marketing plays such a significant role in the success of your business. Seniors need to know that they'll have the independence they crave and the help they need. Their family needs reassurance that your community will be safe for their loved ones and equipped with all the services they need to live a happy life.
Marketing gets that message out there, builds the credibility you need to attract more seniors, and communicates a more positive outlook on senior living communities among those who may be skeptical or suspicious.
Most importantly, however, marketing is so essential to senior care because:
Reputation management is crucial.

Brand awareness is necessary.

A high level of trust and confidence should be established.

Cleanliness, high-quality care, and respect need to be communicated.

Baby boomers are a large part of the population and will be entering senior care.

Competition is high between communities.
A Strong Digital Strategy for Senior Living
If you want to broaden your reach in the market, you will need a strong digital strategy to stand out. This will start with identifying the local audience and gaining a more in-depth understanding of their likes, dislikes, interests, and other demographics and psychographics. You'll then market with both digital and traditional channels using this insight.
Traditional may capture a substantial portion of seniors, but digital will broaden your reach to their children and loved ones.
Next, a strong digital strategy will focus on attracting the right audience. You'll need the right messaging that resonates with what matters most to your audience. For seniors, this will likely be the accommodations and ease of independent living in your senior living community. Still, their children will care more about the safe home features and services close by.
Finally, a strong digital strategy will conclude with some actionable messages that convert those families. With the right offerings specific to the seniors in your local market, the next step would be proving your community is the best option for their journey.
A good example, in this case, is usually content marketing or social media since you can highlight how happy your current residents are while highlighting special features.
What is Audience Segmentation?
Audience segmentation in marketing refers to dividing up your target audience into groups based on specified criteria. This is typically divided into five types:
Firmographic

Geographic

Psychographic

Behavioral

Demographic
Why is it important to segment?
Simple. It allows you to upgrade your marketing from generalized and attempting to appeal to everyone to hyper-targeted and focused on specific segments. This way, you effectively communicate how your community can enrich your target consumer's (or their family's) life specifically versus no community or another community.
Audience segmentation research that a community needs to do before marketing often includes conducting studies to identify customer segments and subgroups within your target audience, analysis into existing customers, and gaining insight into the competition's consumer base. You will also need to narrow those results to your most viable potential customers.
Three Main Segments to a Senior Living Community's Target Audience
There are three main segments of a senior living community's target audience. Depending on the offerings of a community like rehab, transportation, nearby activities, etc., there may be more. You may even find that your list will grow as your community grows, but for now, these are the three you'll want to give your focus.
1. Target the Children of your Future Residents
This is most important.
Many communities will only market to seniors, which can be a big mistake. Many seniors don't want to lose their independence and think they will in a senior community. However, children from ages 35 to 55 are often the ones necessary to market to. They may be deciding in their parents' best interests, so they'll be the ones you'll need to convince.
2. Appeal to Future Residents who may be Seeking out a Community on their Own
Plus, even if their children are the targets, seniors still need to be on board with your community. Seniors want to know what benefits and offerings they are getting. They want to know what life will be like. They don't want to be talked down to or feel disrespected. Seniors may also have the spending power here, so marketing should be mindful of that — even when targeting their children. A senior will be adamantly against it if they get a hold of content that speaks as if seniors are the children and their kids are the adult.
3. Target Geographically
Seniors will often want to stay close to their homes, especially places near family. It's important to target local people. Many children don't want their family members far away, so local audience segmenting is imperative for prospects to find you. The most important strategy here would be to establish a solid online presence since 21% of people look for local businesses online daily, and at least 46% of Google searches are for local information.
Connect with McClatchy for Senior Living Marketing
Contact McClatchy to learn more about segmenting your senior living community's target audience and how we can position your senior living communities as the best in the area.