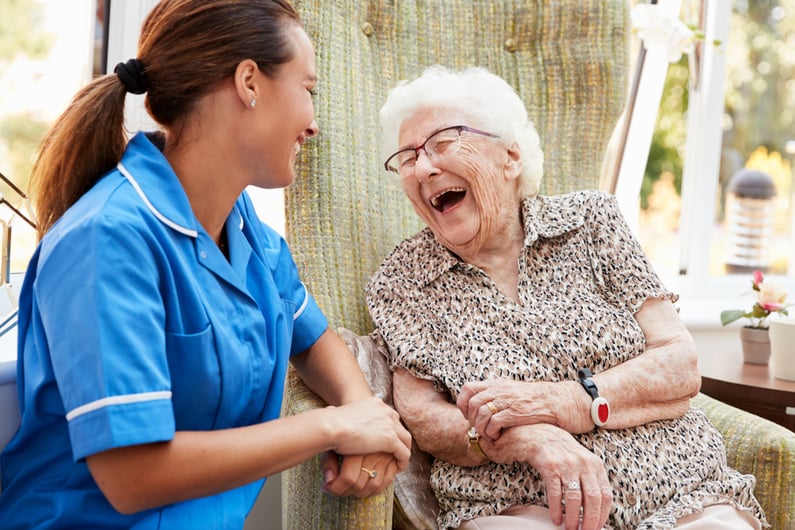 Competition among senior care options is challenging, so marketing senior living communities must be a priority if you want to grow. There are over 50,000 options available in the U.S. and hundreds or even thousands of options per state. A solid senior care marketing plan will position your community at the forefront of your senior living target audience despite so many places to choose.
What's more, senior housing occupancy rose to 81% in the fourth quarter of 2021. This is the second consecutive time occupancy grew in senior housing since the pandemic, signaling a promising future for senior living brands.
So, if your community hasn't grown despite this, it's time to reimagine your marketing. With so many options, your community must have a stand-out marketing strategy. You may even find that a senior living marketing agency like McClatchy is what you've needed to differentiate your community.

Get Clear About What Your Senior Living Community Offers – And What It Doesn't
First things first, know what you have to offer and what you don't so you can effectively communicate it with your audience. You want to market what you do best, so ask yourself:
What are we known for?

Do we specialize in a niche?

Is there something our community has that others near us don't?
Using the insight you get from these questions, identify your community's greatest strengths and highlight your best assets. There are many things you can choose to highlight:
Property

Building

Safety Protocols

Location
Staff

Activities Provided

Quality of Services
Use marketing to really hone in on how your offerings are different. To do this, you'll also want to highlight what you don't do. Providing complete transparency and clarity will ensure you're attracting only the right audience to your community, reducing the disappointment and backlash from overpromising, and keeping your communication with current and potential residents honest.
Why is it so important? Because consumers say so, and they're the ones you want to reach. In fact, studies have shown that 94% of people are more likely to become loyal to a brand because they are more transparent, and another 39% are more willing to switch to a more transparent brand if you're not.
Find Your Target Audience and Align with Them
Using your strengths and unique offerings, define your senior living target audience. Look at who you are targeting now and consider any revisions that can be made better to position your community in front of the right people.
Are you currently targeting the right people? You may not be! Many senior living communities are targeting seniors themselves when they should be targeting the children of seniors instead. This is huge because the children are often making these decisions. This is because senior parents usually don't think they need outside care.
AgingCare reports that nearly half (45%) of Medicare beneficiaries from 65 to 74 have not received the proper assistance for their health concerns. This figure is only slightly lower (42%) among those 75 to 84 years old. The report notes that the primary problem is that seniors refuse the help they need more often than not because aging is so stigmatized, often even when they really need it.
For the best results, align all marketing with your target audience (and don't forget about aligning with seniors' children if needed in your specific community). The most effective way to target is to segment your audience and focus messaging on whom you're trying to reach. Depending on your community, you could be targeting seniors themselves or their children and families if your community is focused on more advanced care.
Messaging that resonates with seniors should focus on the amenities, activities, and things they can look forward to. When targeting children of seniors, gear messaging toward peace of mind, security, comfort, and reputation.
After all, their children may be pulling the strings to get them in a community that offers them the best care, but older parents will often still have a say in which community that will be.
Focus on Your Online Presence
While future residents (and/or their children) will want to visit your community in person for a tour, the internet is the first place they will go to research.
In fact, 81% of people check online before making any major purchasing decisions, with many taking on average 79 days to research beforehand. Considering your community will likely be the place their parents live the rest of their lives, there's no decision more deserving of the additional online research.
Some important areas of having an online presence that you should consider:
Updating your website

with visuals, lots of necessary information, and testimonials will make your community look more professional and trustworthy.




A

social media presence

boosts your local visibility among potential residents that may not have known your community existed. It also offers you the unique opportunity to introduce your community, explain why it's so valuable, and build connections with children, so they feel more confident about moving their parents into your senior living neighborhood.




Tout your strengths

on any online platform you utilize.




Reviews

are essential. They give your community more trust and credibility since people trust online reviews more than just your word. As a matter of fact,

79%

say they trust online reviews

as much as recommendations from family and friends.
Use Effective Digital Marketing Strategies
If you want your senior living community to stand out from the competition, be sure that your digital marketing is effective. Digital marketing for senior living communities should include:
Search Engine Marketing (SEM)

— senior living SEM refers to the process of paying search engines to appear in their top results for relevant search inquiries about senior living communities. For instance, Google allows advertisers to purchase one of the top three spots before results are ranked organically. These top three spots get nearly

75.1%

of all the clicks

, so it's certainly worth it!




Search Engine Optimization (SEO)

— SEO, on the other hand, refers to the moves you make to rank in organic search, like improving your site, using the right keywords, etc. Speaking exclusively on organic search and not including paid search, ranking in the second position can earn you nearly

three times more

clicks than making it to the sixth position. Your chances of increasing traffic drop significantly after the first page.




Content Marketing

— Content marketing for senior living communities is essential to boost your credibility and expertise in the industry. As we mentioned previously, most people research online for a while before making a decision, so establishing authority on senior living will be a vital part of making your digital marketing effective.



Email Marketing

— Email marketing is an additional way to reach and connect with recipients that have opted-in to receive your email updates and promotions. When combined with content marketing, it can also be a great way to keep potential residents and their children updated on new content deliveries, community announcements, and other important information that they may need.
McClatchy is a Senior Living Agency
When it comes down to it, competition in senior living is strong, so your marketing must be stronger. McClatchy's team of senior living marketing specialists can make a difference in reaching the right audience and attracting more residents. Contact us for more insight into how we can boost your occupancy rate by helping you with your marketing strategies for senior living.