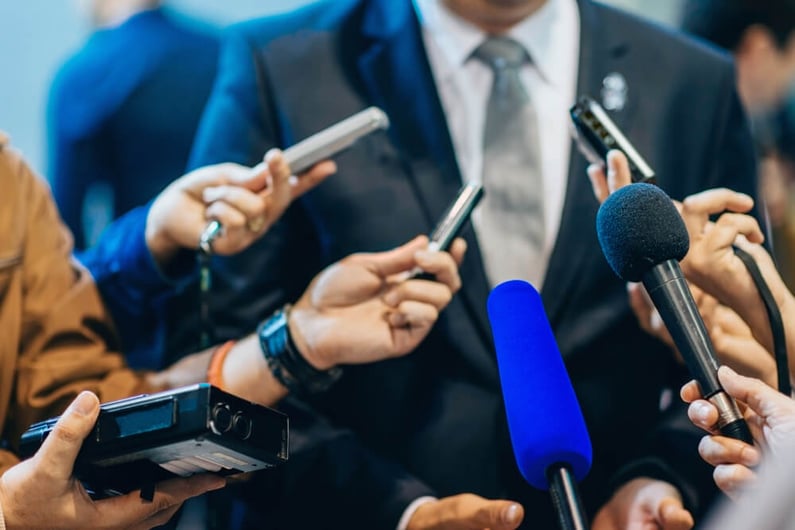 Reaching and connecting with voters is more important than ever. The role of digital marketing in political campaigns is unmatched in increasing awareness, sharing information, and influencing voters. A digital marketing strategy for political campaigns is crucial to the success you have in reaching and resonating with the right people. Here are the top reasons to leverage digital marketing in your political advertising strategies.

1. Reach the Masses...
Reach target audience wherever they are and connect with voters in a geographic location. Through SEM, SEO, social media, or popular news site platforms like McClatchy's, digital marketing increases local, state, and national awareness in just a few clicks.
Just these three digital channels alone can help you reach a substantial portion of your voters:
Social Media

—

more than 4.70 billion people

worldwide are now actively using social media. That's half of the global population within your reach!

Search Engine Marketing (SEM)

— SEM refers to

leveraging paid advertising on popular search engines

to reach your ideal voters when they research topics related to your political campaign. On Google, for instance, the top three spots are paid ads. When you rank in these top three spots,

research shows

that ranking in the first spot on mobile gets you 27.7% of the clicks, and ranking in the first spot on the desktop gets you 19.3% of the clicks.

Search engine optimization (SEO)

— SEO refers to the

optimizations you make on your website pages and content

to reach ideal voters organically on popular search engines. On Google, studies have shown that

53.3% of all website traffic

comes from organic search.
And that's just the tip of the iceberg in the solutions digital marketing can offer your personal brand. You can leverage many more channels in addition to these three.
2. ...Or Get Granular with Targeting
Reach certain generations depending on where they are by leveraging important digital market tactics like:
Programmatic/OTT Advertising

—

OTT, or over-the-top

, refers to advertising strategies over streaming platforms and devices (CTV). When done programmatically, you can automatically access and enter real-time bids all over the internet based on relevant criteria. Now that there are

more than 55 million cord-cutters

you can reach with hyper-targeting capabilities, it's a popular tactic.
Micro-Targeting

— digital marketing is powerful for its micro-targeting capabilities that allow you to leverage new technological developments to gather extensive amounts of online data about your voters. The insight you gain from this knowledge will enable you to resonate with voters meaningfully.
They allow efficient targeting by demographics, interests, location, etc.; their capabilities will enable you to personalize your content/message to specific viewers and avoid ad-annoyance with repetitive ads.
3. Build Your Political Brand
You'll need to build yours to ensure voters are familiar with who you are, what you stand for, and the value you can bring to their lives by being elected it reelected.
Your political brand includes:
Slogans

Colors

Images, etc.
With digital branding, it is easier to keep consistent over multiple platforms. Keeping messaging and branding the same across all channels with a clearly defined guideline for every to follow is essential. When done correctly, you will get your political brand recognized and make it much more memorable amongst voters.
4. Increase Awareness and Influence
With digital marketing, you can be everywhere voters are, which is crucial. Increase campaign awareness on several platforms, from dozens of social platforms to search engines and relevant sites. Going digital makes it easier to reach more people because you go beyond the limitations of press releases, local gatherings, etc.
You also have the unique opportunity to connect and influence through OTT, social media, email campaigns, etc.
Combined, you can:
Reach voters on popular platforms like OTT and nourish that relationship with personalized emails and regular engagement on social media.

Get your opinions and stance heard by tens of millions.
Over the years, connecting over live streams has increased engagement, and partnering with relevant and trusted influencers has gained access to loyal audiences.
5. Political Digital Marketing Campaigns are More Effective
To stay relevant in the public eye and connect with today's voters, you must leverage digital marketing to reach your political campaign target audience. According to research, it is the most effective way to reach and resonate with your audience.
Statistics that Show the Effectiveness of Digital Marketing for Political Campaigns
According to Tech for Campaigns, the effectiveness of digital marketing is so great that digital advertising spending is steadily on the rise. Spending on Facebook and Google reached $2.3 billion, and 1.5 billion on other digital expenditures.
What Kinds of Success have Previous Campaigns had with Digital?
Two digital political campaign examples that have had significant success include:
Bernie Sanders's virtual rally campaign

Alexandria Ocasio-Cortez used social media, Instagram particularly, to connect with her voters
Political Digital Marketing Campaigns with McClatchy are the Most Effective
Partner with McClatchy for political digital marketing. A partnership always includes accessing voters/audiences on platforms they trust, like McClatchy news sites. Not only will your potential reach be extensive — including 75+ million unique digital viewers, 10+ million views on monthly videos, and 7 million combined social media followers — but we have a dedicated team of experts who specialize in political digital marketing specifically.
If you want the most effective digital marketing strategy for political campaigns, McClatchy is the partner you need to get in front of voters and resonate with their most critical political needs.