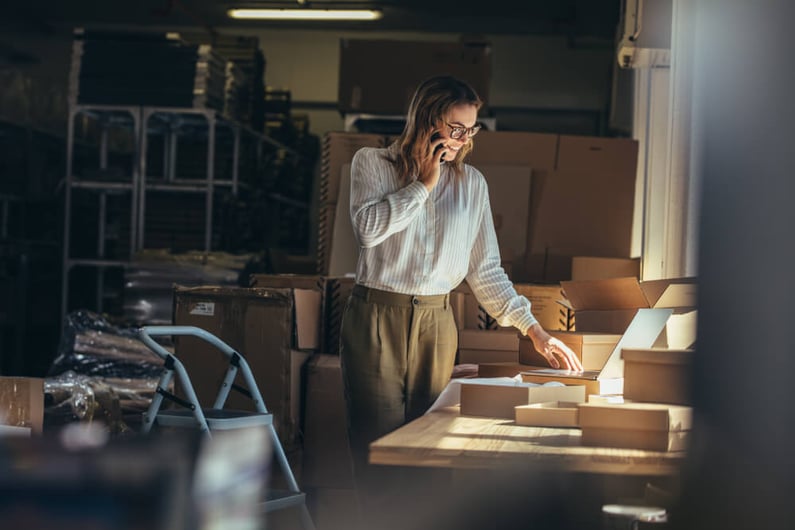 Brand identity includes all the visible elements of your brand that customers use to distinguish your brand from a competitor. These include the colors, fonts, logos, and unique designs you use to present yourself to consumers. Think about the iconic T-Mobile pink or the golden arches of McDonald's. Both brands operate in highly competitive spaces, but everyone can recognize them. They stand out from the crowd just based on visual cues alone.
Businesses across any industry must develop that instant recognition among their target market. After all, you want to become a fixture in your target audience's mind, a brand that appears frequently, doesn't get muddled up with competitors, and (ideally) stands out as an appealing and high-quality option. 
When you focus on starting or growing a business, prioritize developing a strong brand identity. Here are some reasons why it's vital for any business's growth.
1. It Differentiates Your Brand From the Competition
Most markets are highly competitive. Even if you operate within a small geographic area or have a narrow target audience, other businesses will sell similar products or services in your space. A strong brand identity means both prospective customers and return customers will easily be able to recognize your brand.
For an even more memorable brand that resonates with your target market, create brand elements that emphasize your unique selling point. What makes your company fundamentally different from others in the space? Whether it's the eco-friendliness of your products, the speed of your services, or 24/7 friendliness, make sure your logo and visuals encapsulate that point. That will help you further separate your brand from competitors and tell new audiences a lot about your brand at a glance. 
Memorable branding isn't just for consumers. It can also attract the attention of vendors, partners, and local organizations looking for a business collaborator or sponsor.
2. You Can Increase Trust and Credibility Amongst Locals
Branding is especially critical for touchpoints, or the direct interactions between brands and customers because each touchpoint is an opportunity to solidify your brand identity and how prospects view your company. The more touchpoints you can generate, the better, with general estimates putting the ideal number for B2C brands at approximately eight touchpoints before a conversion. That number may increase or decrease depending on your industry, the size of the purchase, or the customer's unique needs. 
By having a prominent, recognizable brand, you can increase the number of touchpoints and the lasting power of each touchpoint. Putting your brand on billboards, making it visible on your website and local business directory profiles, and even having it on signage and directories in a shopping center can make a significant difference.
The reason why touchpoints work is that they generate familiarity, helping you gain consumer trust. You can become more familiar with audiences and keep your brand top of mind. That will naturally make your company and services a more favorable option once someone is ready to purchase.
3. Foster Customer Loyalty
Good branding doesn't just display your unique selling point. It can also establish the core values of your company. For example, if you sell eco-friendly products, that doesn't just distinguish you from competitors who don't make the same distinction. It also makes your brand more appealing to customers who value companies that focus on sustainability and eco-friendly initiatives. Once customers know your values align with theirs, they are much more likely to try your products and come back to buy more.
Similarly, you can foster customer loyalty by positioning your brand as a local company. Local companies are familiar (which can help increase trust) and become part of a target market's local identity. Combining your emphasis on being a local institution with participating in local events or sponsoring local organizations or school events can further cement customer loyalty.
4. A Strong Brand Allows for Premium Pricing
Recognizable brands can rely on customers to purchase products at higher prices more than companies with unrecognizable brands can, even with equal factors. That's because your brand becomes part of the product's value. Think about the fashion industry, for example, where competing products operate at wildly different price points because of the logo on the front rather than the quality of the product.
Combining good branding with good services and product quality further justifies your pricing possibilities. Ultimately, if you have a brand customers like and recognize, they are more willing to pay premium prices. Brands that develop unique or specialty products can have more recourse to charge prices that match the effort put into them when you have quality branding backing you up.
Develop Your Brand Identity and Win with McClatchy
Good branding unlocks more customer loyalty, more customers, and the possibility of higher prices. With benefits like that, put in continued effort for creating, refining, and strengthening your company brand elements. McClatchy's Ad Manager can help you develop brand elements and get more mileage out of your brand. Their services can help you control your display ads, social media, posts, and email marketing to strengthen your brand identity as a small business. Sign up today to take the next step in your small business branding.