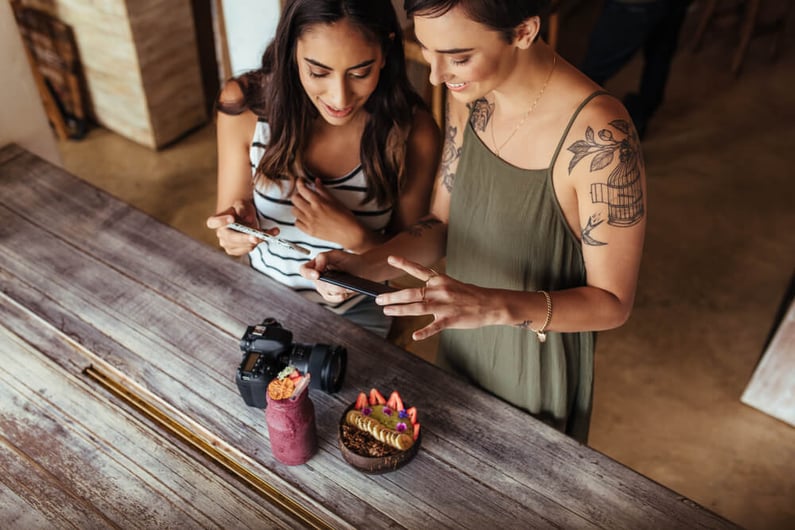 Investing in social media is a great marketing tactic — not just for large corporations but also for small businesses. This form of marketing is generally cost-effective and can be an exceptional driver for growth, especially early into your business's life. Moreover, engaging with your prospects and current customers is a great way.
But how can you create a "big" presence on social media despite running a small business? It may not be as difficult as you think. With proper planning and execution, you can leverage your social media accounts into a powerful marketing tool. The following information will discuss how.
Creating a Big Social Media Presence
In this context, we define a "big" social media presence as one that generates
significant
results
for your brand — in other words, one that reaches and resonates with the customers who
impact
your business. If you implement the six steps listed below, then
you're
well on your way to enjoying th
e
big presence that will
benefit
your business:
1. Pick Platforms Your Customers Use
It's vital to stay active on the platforms that your customers most frequently use. Of course, the platforms you select will largely depend on your target audience. For example, Baby Boomers and Gen X-ers are likelier to use Facebook than TikTok.
Once you've identified the most popular and preferred social media platforms among your core consumer base, you can work on optimizing your company accounts to perform well on those.
2. Post Consistently
As you invest in a stronger social media presence, you must find a consistent posting "cadence" or frequency. Posting too often can dilute your branding efforts and lead to quality issues in your posts. Posting irregularly can confuse your followers and make them lose interest. 
When you make regular (but not too frequent) posts that offer high quality and value, you'll keep current customers interested, grow your follower base, and help generate increased engagement. Keep in mind that each platform differs in terms of optimal frequency. For instance, it's generally best to post to Twitter 3-10x a day to stay visible versus posting on LinkedIn or Facebook only once or twice daily.
Businesses can create posts in advance and schedule them out using various automation technology. McClatchy's self-serve Ad Manager platform allows businesses to build creative and schedule them to post in one place. That way, you can work on your social media content when you have the time and not let it interfere with your daily business operations.
3. Provide Value and Entertainment
You can use your social media presence to share helpful information with your followers — e.g., the most recent blogs and videos on your website or even curated articles (such as industry updates) from other sources. You can also use social media to entertain your audience.
For instance, many social media users enjoy participating in quizzes and polls. Leverage those opportunities to engage with your followers and learn more about their interests and preferences.
4. Engage with Your Followers
Remember to engage with your followers and other prospects as you post to your social media accounts. Social media marketing is not a "set it and forget it" strategy. It's important to remain responsive when someone asks a question, comments, or interacts with one of your posts. Be ready to help with any customer issues — and always thank them for engaging with you.
Engagement also gives insight into how well your ad reaches the people you want to reach, meaning customers who can and will pay for your products or services. It's a great metric compared to likes or followers, which may look great by reaching many people, just not the people who will affect your bottom line.
5. Use Hashtags to Reach Broader Audiences
Hashtags are, in essence, labels for posts that use the "#" symbol. Hashtags can significantly increase your posts' visibility since social platforms use them to deliver content based on specific search terms that a person inputs.
As you incorporate hashtags into your posts, ensure you don't overdo them. Too many hashtags will detract from a post's value and may result in less traffic. For many platforms, 1-3 hashtags are the optimal range. 
Also, ensure the hashtags you use include search terms that people will likely type in. Don't make them too long or complicated. Finally, it's generally best to capitalize the first letter of each distinct word included in each hashtag.
6. Use Paid Ads for Increased Visibility
One final step to achieving a big presence on social media is to employ paid or boosted ads for improved visibility. Many social advertising platforms enable companies to bid on certain keywords or pay to deliver ads to specific demographics. Boosting an ad means paying for it to be more visible (e.g., to stay at the top of a feed). Both are viable options for getting your business in front of more social media users.
Make a Big Mark with Social Media
Social media marketing is a powerful medium for small business growth. When you take specific steps to create a big presence on social media, your small business will enjoy increased visibility, engagement — and ultimately increased sales.
If you'd like to take your social media marketing to the next level, McClatchy can help you. Our self-service Ad Manager empowers business owners to create and post social media posts themselves, when they want and at their preferred budget. It empowers businesses to develop and implement a winning plan to meet their specific business goals.