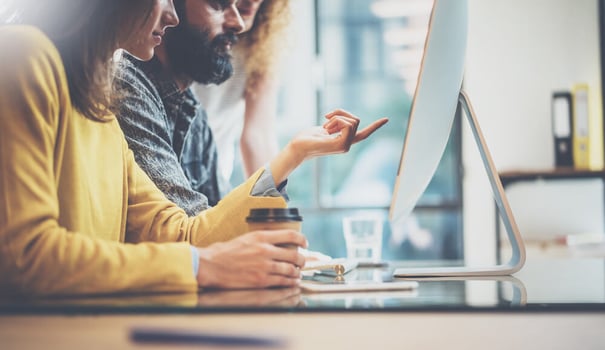 Digital marketing and customer behaviors change as quickly as new technology becomes available. In 2023, we saw several emerging trends that will continue into the following year. Now is the time for businesses to take note and shore up their marketing strategies to acknowledge and leverage these digital trends.
This post will review some of the most notable digital marketing trends so you can start incorporating them into your 2024 planning.
Trend 1: Rise of Visual and Voice Search
Consumers are changing how they search for information. The convenience of speaking instead of typing has seen voice search using mobile and smart home devices continue to rise. Siri was one of the early entrants into the voice assistant market, and now there are many more options for users that enable hands-free search. 125.2 million people have used voice assistants to make queries this year alone. That means new opportunities for companies that optimize their content for voice search.
Visual search means searching using images rather than text. It has also seen a sharp increase, with sites like Pinterest, Google, and Amazon responding to the demand. Images give customers a richer experience, reflecting how they shop in person. Consumers primarily rely on visual stimuli to discover their interests before moving on to other criteria to narrow their choices.
Voice searches are heavily leveraged for local searches, which is an important fact for small or independent businesses. "Near me" searches have increased 500% in recent years, with 28% of those searches leading to a purchase. If you want to capture more of your target audience's attention, optimize your content for both voice and visual search.
Trend 2: OTT "Subscription Stacking" Slows for the First Time in 5 Years
With the proliferation of a la carte video subscription services such as Hulu, Netflix, Apple TV, Amazon Prime Video, Disney, and more, consumers have virtually endless options for their TV viewing. However, recent numbers show that stacking subscriptions is on the decline. So, how did this occur? Was it hyperconsumption during COVID-19, high penetration, inflation, or something else?
The impact is evident in OTT and digital streaming, and the reasons vary. However, concerns about inflation and the economy in general seem to have consumers tightening their purse strings. These concerns have boosted interest in free, ad-supported streaming services (see trend 4 below). However, that is another opportunity to be leveraged by savvy, proactive marketers.
Trend 3: Daily Time Spent on Digital Video Forecasted To Surpass Daily Time Spent on Linear TV
It should come as no surprise that digital television is how most people watch their programming today. However, it may surprise you that this year is the first time that the number of digital TV viewers has surpassed that of traditional linear television viewers. People are spending more time on social media watching videos. Another change that has drawn even more viewers to digital over traditional TV is the move of live sports to various streaming services.
Trend 4: The Coming Age of AVOD (Ad-Based Video On Demand)
Ad-based video on demand, or AVOD, is a type of streaming service that is free to users. They make money by selling ads rather than charging viewers, similar to linear TV before the advent of cable services. Examples of the most popular AVOD platforms are Roku, Tubi, and Peacock. The reason for increased market penetration is likely a combination of greater awareness of what is available on these channels and a willingness to give up all or some of their subscriptions to save money.
AVOD differs from SVOD (subscription video on demand) because SVOD charges a monthly subscription fee to access their content. You'll likely recognize the major players in this category. The most popular SVOD channels are Amazon Prime, Netflix, and Max. However, Disney+ and Netflix recognize the value in maintaining viewership even if they aren't getting subscribers for their paid services, so they are launching an ad-supported tier to compete with AVOD and FAST (YouTube, Roku Channel, Pluto, Tubi, Xumo, Philo, and Freevee) platforms.
Is Your Business Poised to Leverage the Latest Digital Marketing Trends?
If you haven't explored the latest trends and your options for leveraging them in your marketing strategy, it may be time to find a better way to manage your ad content. As the second-largest local media company in the U.S., McClatchy has the expertise and capability to track and adapt to trends. Our capabilities include social media, digital TV, native and branded content, programmatic advertising, SEM, digital audio, email marketing, and more.
Reach out today to find out how we can help you extend your reach, increase your results, and realize greater ROI.