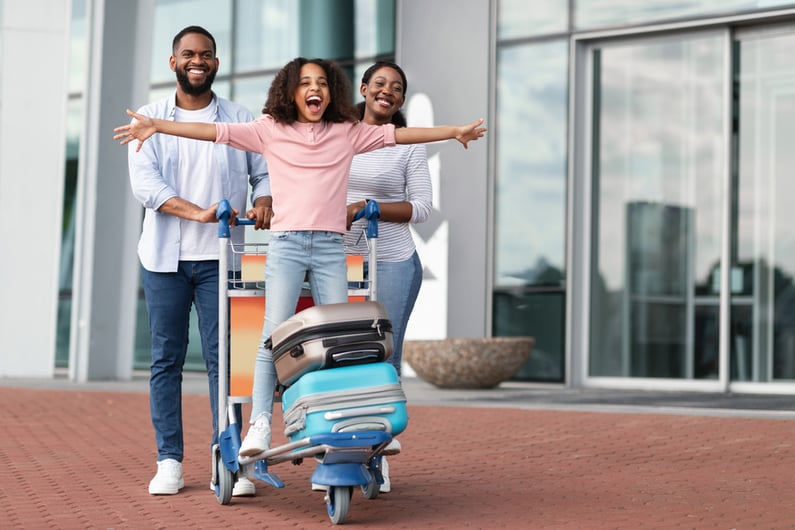 The current climate of the travel industry is still recovering from a pandemic that has changed the industry drastically since 2019. According to Deloitte, travel and tourism companies were among the top industries to fall the fastest and hardest following the emergence of COVID-19.
Not only did air passenger volume in the U.S. experience an initial plummet of 90% in March 2020, but by April, hotel occupancies in the U.S. also fell by 25%. Although bookings nearly doubled between February 2021 and September 2021, brands will need to overcome major pandemic-related challenges with long-term preparations to come out of this on top.
The solution is to have a solid digital marketing plan for Destination Marketing Organizations. DMO travel and tourism may be experiencing some of the most significant long-term shifts of our time. However, several critical tactics should be in your destination marketing strategy to ensure your brand remains on top. To help, here are the top challenges travel marketers experience with digital marketing and some sure-fire solutions strategic digital marketing can offer you.

5 Travel Marketing Challenges
In travel marketing, there have certainly been a lot of challenges to face and overcome over the last few years. Here are some of the most significant ones that will allow you to maximize your marketing potential and grow your company.
1. Personalization
Consumers are getting used to personalization and have even expected it in most cases. According to McKinsey, more than 70% of consumers now consider personalization a 'basic expectation.' Moreover, 76% say that they are frustrated when their experience with brands isn't personalized.
Destination Marketing Organizations (DMOs) and their lodging partners etc., need to capture the attention of their target audience with personalized messaging. This means making use of two things in particular:
Segmentation

— Interested in a 760% boost in revenue growth?

Research shows that

a segmented campaign can give you that substantial boost!

Buyer Personas

—

Have been linked

making websites

2-5 times more effective and more user-friendly. Furthermore, 3-4 personas generally account for more than 90% of a business's sales.
Travel destination marketers often don't know how to capture and leverage data to help build customer relationships. A partner like McClatchy could help.
2. Marketing Channel Confusion
Many companies in the travel space aren't versed in which channels will yield the most leads and conversions. It's common for many to waste budgets on channels that aren't performing, leading to spending more money while earning little-to-no results. Knowing what channels your audience is on and how to target them is critical to reaching the right travelers with your brand message.
For insight, here are the travel and tourism distribution channels of 2022:
Tour Company's Websites

Hotel and Tourist Information Centers (recommendations from staff at desks)

Review Sites

Online Travel Agencies




3. Brand Differentiation
Many travel brands are so similar in today's market that there is little to set them apart. Travel brands mainly offer the same thing, so there is little brand loyalty (especially with millennials and Gen Z).
The biggest challenges, however, are:
You may not know what marketing approach to take
Understanding how your brand does and doesn't stand out
A partner could help you identify those key differentiators.
4. Social Media Management
Social media is very influential, but many tourism marketers don't have the time or knowledge to create and maintain a strategy. The problem is that most don't know where or how to reach their audience, so they pour money into ads with little success. On the other hand, when done correctly, social media management could lead to higher ROI and a boost in visibility, brand awareness, and online traffic to your website, Google My Business profile, social media profile, etc.
After all, social media can help your brand reach more than 4.62 billion people worldwide (that's more than half of the world!) when you actively entice, engage, and interact with current and potential customers.
5. Achieving Advertising ROI
There's no way around it: Advertising is necessary. Without a proper strategy, however, ROI can be hard to achieve. Competition is stiff, but you need to stay ahead of the competition by focusing on advertising strategies and channels that earn you the highest ROI.
For instance, the following marketing channels produce the highest ROI:
Pay-per-Click (PPC)

Search Engine Optimization (SEO)

Email Marketing
This can be a great place to start, but more in-depth research may find that other channels and initiatives can be just as beneficial for your destination in particular.
5 Digital Marketing Solutions for the Travel & Tourism Industry
Digital marketing encompasses an array of solutions your DMO can put into action. The top solutions for the travel and tourism industry, particularly, are the following.
1. Segmentation: Understand Your Target Audience
Although it is among the top challenges (personalization), segmenting your target audience could make all the difference in understanding your target audience — and, therefore, boosting your reach among them. According to recent research, your company could gain a 130% higher chance of understanding your customer's motivations and a 60% higher chance of understanding their concerns and challenges when you take advantage of segmentation.
2. Brand Awareness Strategies
The online world can offer your travel and tourism brand a range of brand awareness opportunities if you set aside the time to take advantage of them.
Some of the top strategies to consider include:
Social Media

— When you actively post, interact, and engage with followers, you can boost your brand awareness on social media pretty quickly (especially if you're lucky enough to go viral). Paid ads can also be beneficial! That's why

nearly 60% of marketers

use social to increase brand awareness.

Content Marketing

— When done correctly, content marketing sells your value as a business rather than just your destination. That's why most

(88%)

of marketers have successfully reached their brand awareness and credibility-building goals with content marketing.

Podcasts

— Did you know podcasts alone can lift your brand awareness

by 24-79%

? Whether you create your own or promote it on relevant channels, more people visit their favorite podcasts for travel ideas and inspiration.
3. Multi-Channel Attribution
This process in which you identify the touchpoints in the buyer journey that lead to conversions — gives you a better understanding of your current and potential customers, from your first interaction to the most recent. This will allow you to pinpoint which initiatives and channels are the most valuable in reaching your target audience and which require more of your time and money to guide more consumers to the decision stage to purchase.
4. Leverage Social Media Marketing
Managing social media may be one of the top challenges travel destinations face today, but its potential for getting you well ahead of the competition cannot be ignored. In fact, the challenge will give you the unique opportunity to differentiate from the competition when you connect with more travelers and elicit loyal responses that influence them to share their positive experiences with friends, family, and social media followers.
However, remember that not ALL social platforms are suitable for travel destination marketing.
That said, some of the top in today's marketing are:
Facebook

Instagram

Pinterest

TikTok




5. Achieving ROI with an Expert Digital Marketing Agency
Arguably the most important solution is to have a driven and experienced digital marketing agency like McClatchy to guide you through the process. Digital marketing can be the most effective solution to getting your brand through the top challenges travel destinations face, but only if you're doing it right and following best practices. Partnering with an expert media agency can make all the difference in achieving more successful campaigns and a higher ROI.