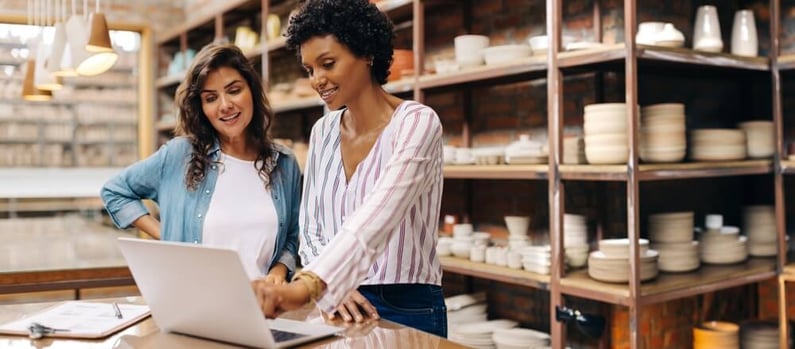 How long were you awake this morning before you were online? Chances are, it wasn't long. The average person spends over 6 1/2 hours each day on internet-connected activities. That means an audience of engaged consumers is just waiting to come across your ads. 
Businesses that haven't yet recognized this fact are missing out by not trying to reach customers online. Small businesses should be actively working to create their online presence. With a combination of website and marketing techniques, every business owner can learn how to reach potential customers. Keep reading for some best practices for how to build a small business online presence.
Develop a Useful Website 
Your website often introduces your customers to your brand for the first time. It puts a face to the name and lets customers get to know you as a legitimate and valuable business. Even more importantly, it humanizes you, transforming your organization from an impersonal entity and creating a personal connection. 
Your website also acts as a sales tool. It helps move your visitors through the sales funnel by giving them all the information they need to know to take action. It can inform shoppers of sales and invite them to join a loyalty program for more savings. Your website works for you by bringing in sales at all times of the day. 
Set Up Online Ordering or Scheduling Options 
Customers love convenience. In a busy world, it may be late at night or outside of working hours when your customers realize they need exactly what you offer. Tap into that by setting up online portals where your customers can make their lives easier. Customers will appreciate it if you give them the ability to make orders, schedule appointments, get deliveries, or choose a time for order pickups. 
Invest in Digital Marketing 
Digital marketing is invaluable in today's market. Digital marketing is how your brand shows up in search engine results pages or display ads. Both are vital tools that help you reach the people most likely to be interested in your products or services. They can remind visitors that previously visited your site about products they were interested in or reach a targeted audience based on behavioral or demographic data. 
Conduct Lead Generation 
Piquing the public's interest is how you attract customers to your business. Lead generation is the technique businesses use to capture the attention of their target customer group and nurture their prospective patronage. The lead generation process consists of the following steps:
Market research

- Know your target audience and gather as much data about them as possible

Create engaging and compelling content

- Everything you put in front of the public is content, from your landing pages to email, social media, ads, blogs, and more

Keep a record of your leads

- A Customer Relationship Management (CRM) system or lead generation database is a way to organize your research, segment your audience, and take much of the manual work out of generating your team's sales lead lists.

Score and qualify your leads

- Establish a consistent way to organize your leads and rate them from new to working, nurturing, qualified, or unqualified
Keep in Contact with Email Marketing 
If you have questions about whether email marketing is for your small business, consider this: 51% of people have purchased a product or service in direct response to an email. Email marketing gives you another avenue for reaching potential customers and lets you send updates to your most dedicated following. Lead generation helps you create a curated email list to reach everyone, from leads to your most loyal customers. 
Create Social Media Accounts 
There is no question that social media is essential in building a small business's online presence. Social media is valuable for reaching new customers and keeping current ones engaged. It allows you to share updates and provide content to reach your customers. Your social media account can be a fun and creative way to connect to existing followers and attract new ones. 
How To Build a Small Business Online Presence Using the Right Marketing Tools
Every business, from industry leaders to new or small, independent companies, needs an online presence today. It is how the public verifies your credibility and learns about your value proposition. Your online presence can attract new business, create loyalty, engage people in discussions, and demonstrate your dedication to a great customer experience. 
Creating your online presence requires using numerous techniques to carry out your marketing strategies. McClatchy's Ad Manager is an excellent way to achieve this. It gives small businesses the flexibility to handle most of their online marketing, from creating digital posts to scheduling emails to generating social media marketing. When you are ready to take control of your ad campaigns, start advertising with McClatchy now.