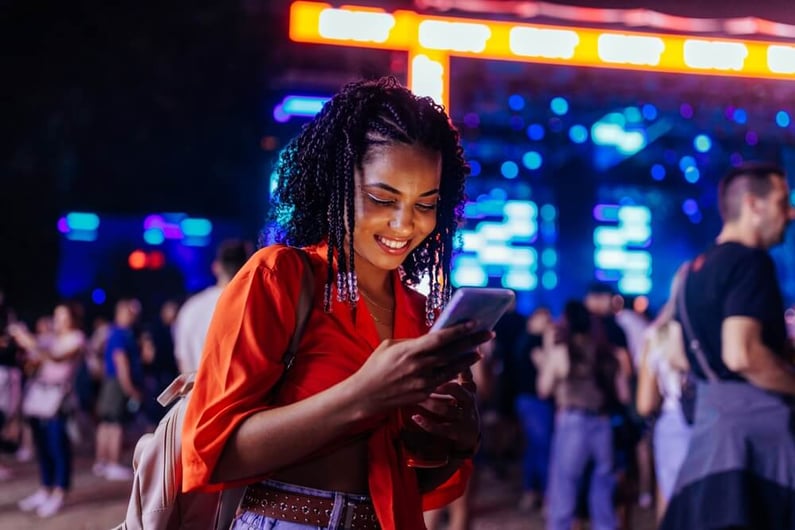 Online sites and mobile devices provide seemingly endless sources of entertainment, keeping us connected to a separate world that is still profoundly incorporated into ours. These entertainment companies make us feel like we have a backstage pass into the entertainment world or that we know the people we see and admire. That's why social media and content marketing are beneficial for reaching customers as part of your entertainment brand marketing strategies.
In this post, we'll discuss how entertainment brands can use social media and content marketing as part of their overall marketing mix to foster trust and connection with consumers.
Using Social Media and Content for Entertainment Brand
Social media and content marketing are perfect complements to entertainment brands. These platforms reach consumers directly, catching their attention and directing them to your site or encouraging them to get excited about or take advantage of your offerings. Social posts can take on a life of their own, reaching far more people with shares, likes, and reposts than the original. Entertainment industry social media marketing is also highly cost-effective, particularly when compared to offline advertising.
Content helps to give insight and develop hype around new media or offerings to excite people about new things your company is creating. That way, you can generate interest and spread knowledge amongst audiences while giving your most dedicated fans access to more content.
Entertainment Marketing Tips
So, what are some of the best practices for entertainment brand marketing? Let's look at a few of the most effective ways to use social media and content marketing in entertainment.
Share a Variety of Content
Variety is not only the spice of life but also the fuel for high engagement. If you want to capture and retain the attention of your target market, you have to offer them something compelling. Use various content to engage your audience, such as eye-catching artwork, videos about the "making of," or a blog that gives readers a glimpse into the artistic process of the actors, musicians, writers, or collaborators. You could do this through self-produced content or leverage other entities to produce content. Conducting interviews in news or culture publications gives your events and artists exposure while fostering an informed and connected public.
Entertain and Engage Your Audience
Engage your audience by demonstrating how your company entertains people. Let them see a bit of what they'll get as your customer. Is it a funny movie or the next hit song of the summer? Movie and music video clips are sure ways to get them to stop and take notice. Use your social media or content to incorporate things that draw people to your bigger entertainment. Showing your company's skills and ability to keep people entertained will let them see what it'll be like when paying for more from your company.
Give a Look Behind the Scenes
The entertainment world is fascinating to those who view it from the outside. Behind-the-scenes content is always something that people will be interested in. Share first-look videos of artists as they prepare for a scene or a concert. Have the creators share their own words about their experiences, how they got into the business, or stories about working with other artists.
Immersing audiences in first-hand impressions of what it was like to work on these projects draws them into your company. It creates excitement by developing connections between audiences and the individuals involved in the creative process.
Showcase Your Staff or Cast
Along with giving backstage glances at your production process, leaning on your staff and cast to bring in attention helps develop increased connections with audiences when they're public-facing. Let them share their social content or create videos or blogs where they answer questions and participate online. The more you engage with your followers, the more they'll want to return for more.
Share Your Content on Social Media
Your social media accounts are ideal for sharing content directly with your customers. Subscriptions like those on YouTube or Instagram can help you share videos and other content with those most interested. You can also share blogs directly with those who sign up through your social accounts. Leveraging both channels for cross-promotion helps you reach multiple portions of your audience with entertaining content, getting more benefit from what you create.
Use Video and OTT Ads
Consider running ads using video or OTT channels to reach customers with rich information. Show compelling scenes that make viewers want more. Make them jump with a clip from a horror movie, put them on the edge of their seats with a set from a mystery, or make them fall in love with the main characters in a romance with upcoming movie trailers. Boost concert ticket sales for forthcoming tours with scenes from live performances or fans reacting to the experience.
Run Social Media Ads
Use social media ads and pinned posts to increase visibility. You could run a social media campaign that encourages users to share their own media, whether it is pictures of them dressed as characters in front of a theater, a video of them performing a popular song, or acting out a scene from a show. Pinned posts can keep your most popular and engaging content visible for an even more significant effect.
Create Native Content
Use sponsored or native content to share insight and information in a comfortable, accessible manner. Sponsored content is delivered in a voice and style that fits with the rest of the site, so it comes across to the customer as informative rather than sales-oriented. It's another method to give audiences a glimpse into the production or learn about the artistry and cultural impact behind your work. For those who either aren't on social media channels or prefer in-depth looks into the company, it offers an alternative to build more of a following.
Entertainment Brand Marketing Made Easy
When you don't have time to figure out your entertainment industry social media marketing on your own, McClatchy can help. We are the second largest local media company in the U.S., with more than 75 million unique digital visitors, over 10 million monthly video views, and a combined 7 million social media followers. Our team is here to help you design the ideal marketing strategy to promote your entertainment company.
Reach out today and speak to one of McClatchy's representatives to get started.