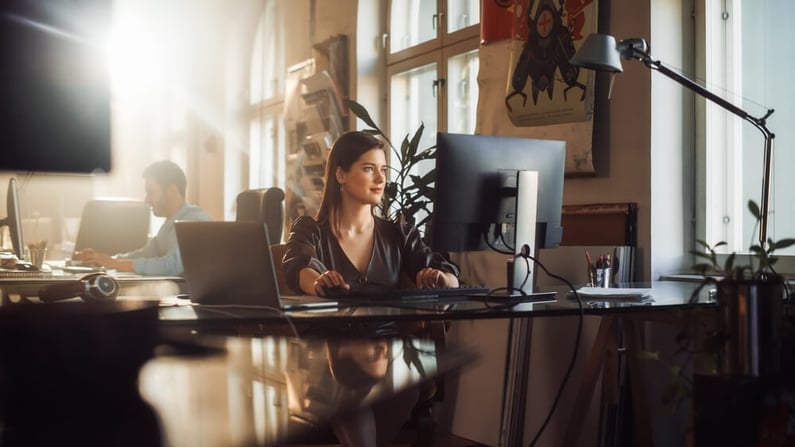 Have you ever wondered how those seemingly ubiquitous brands get that way? We encounter them everywhere, whether streaming music, watching television, checking our email, or using our favorite search engine. How does a brand become so ingrained in our everyday lives that it becomes part of our vocabulary? One of the main drivers of that phenomenon is digital marketing.
Digital marketing can increase visibility with your company's target audience, meeting them when, where, and how they spend their time, letting you reach your ideal customers, and giving you the information to become more effective in the future. You can tailor your messaging to your audience's habits, interests, and preferences to be more engaging and useful.
In this post, we'll go over how to create a digital marketing strategy that increases your brand visibility to reach your audience easily and efficiently.
Digital Marketing to Increase Visibility
A critical benefit of digital marketing is that it targets the specific audience you want to reach cost-effectively. This particular type of marketing leverages the power and widespread use of technology to provide numerous benefits. Some of the many advantages companies realize when using digital technology include (but aren't limited to):
More specific targeting options

Enhanced brand recognition and credibility

Increased return on investment (ROI)

Effectively reaches customers at any point in the buyer's journey

Fully customizable to your needs

Greater customer engagement opportunities

Measurable results for future insights
So, how do business owners get started, and what should they focus on to achieve the most significant impact? Here are a few of the most effective techniques for increasing visibility with digital marketing.
Strategize Search Engine Presence
Search engine marketing (SEM) and search engine optimization (SEO) are vital for getting and keeping your brand visible during the decision-making process. SEO ensures your website gains greater visibility organically, a crucial long-term growth strategy. SEM leverages paid advertising like pay-per-click (PPC) to help target new customers and direct even more traffic to the company's website by putting your brand in front of the people you want to reach. SEM and SEO are powerful individually, but their combined effect can propel your brand to new heights when used together.
Develop Native Ads to Show Knowledge
Have you ever encountered an ad that was subtly interwoven into the surrounding content that you didn't even know it was advertising until you saw the brand name? That's what native ads can achieve. They fall naturally into the surrounding content's style and rhythm, making them much more engaging. Also called sponsored content or branded content, this type of ad is more approachable for customers, as it is viewed as a part of the site they are already interested in and presents the brand as interesting and helpful. It presents naturally informative content, helping people become informed consumers and guiding them more subtly to your company. Be careful to balance the tone of these articles, as making them too overtly promotional can damage credibility – walking the fine line of sharing helpful information with your marketing push is vital.
Reach Specific Audiences with O&O Platforms
Owned-and-operated refers to media platforms or channels where the owner has complete and total control of the content. Examples of O&O platforms are branded apps, a company website, or branded social media accounts. There is unlimited power in these types of channels, as the ads reach targeted audiences as they visit their sites and other channels. They give customers to audiences with extensive knowledge about them, allowing brands to shape their ads to reach these groups most effectively.
Don't Forget Email and Social Media
Both email and social media are ideal for bringing attention to a brand. They are also highly effective at retargeting, re-engaging previous customers, or reminding groups to which you are already advertising about your value proposition. They are valuable parts of an omnichannel strategy for reaching customers who can easily overlook or forget to follow up on something they are interested in. Retargeted ads have a 400% engagement rate over initial ads, primarily due to the ability to tailor the messages based on the users' interests and prior interactions.
An Experienced Partner Can Show You How to Increase Visibility With Digital Marketing
Business owners know how important it is to have a robust, effective marketing strategy so customers are aware of their offerings. However, few have the time or experience in current digital marketing trends and techniques or the time to implement them. That's where McClatchy can help. We have a strong local and national reach numbering in the millions, achieved through customized solutions, effective marketing strategies, and an audience-first approach.
As the second-largest local media company in the country, we help our customers access unique audiences, local content sponsorships, strategic digital tactics, and much more. Our reach extends to 75 million unique digital visitors, over 10 million monthly video views, and a combined 7 million social media followers. We offer numerous solutions for everyone, from local businesses to non-profit organizations to large national brands, to help them achieve their goals.
Contact us when you are ready to make your brand a household name.