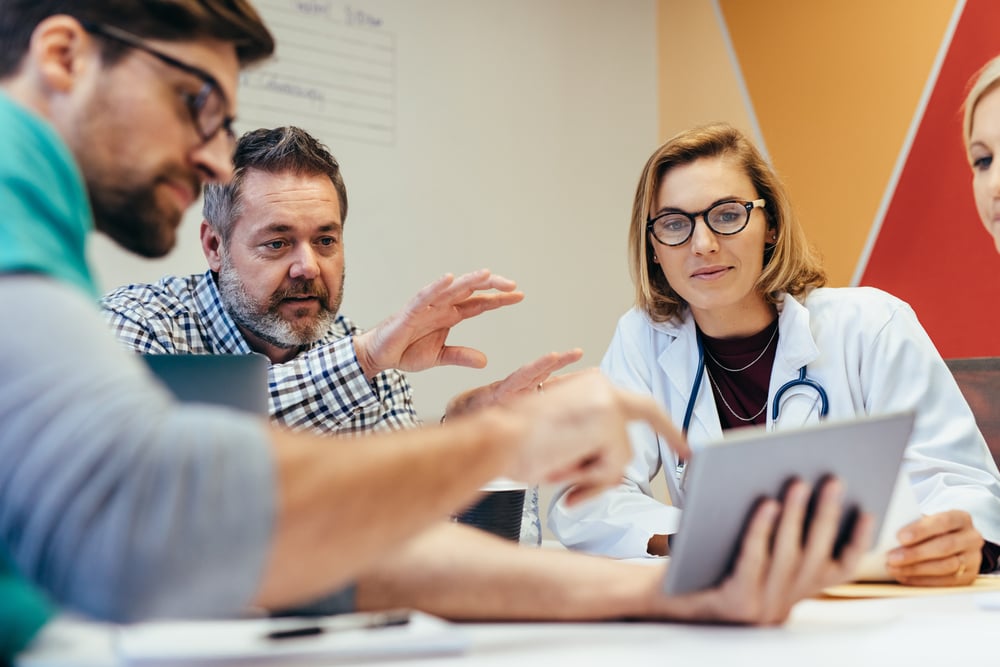 In a saturated industry like healthcare, you need to be quick to take advantage of healthcare marketing opportunities that make you stand out from the noise and connect with the right people. This is where digital marketing, (and targeting the right people without HIPAA violations) comes in.

What Does Digital Healthcare Marketing Entail?
It integrates omnichannel, segmented, online efforts to drive engagement and growth. Focused on a target audience and key performance indicators — all meant to improve return on investment.
Why is Marketing Important in Healthcare?
Results! Not only is digital advertising cost-effective, measurable, and personalized, but studies report brand lifts (perception of your practice) by at least 31% with digital marketing.
For inspiration, we've gathered the top healthcare promotional strategies in digital advertising, including best practices for your website, healthcare PPC advertising, and social media post ideas for healthcare.
Optimize Your Website to Drive Traffic
Your website is the most significant part of your online presence. If you have one (and it's good!), your credibility is automatically boosted. If you don't, consumers are skeptical. In fact, more than half (56%) of consumers say they don't trust brands that don't have a website.
It's the one place where everyone can find you, learn more about your values and offers, and determine if you're the solution to their problem. Think of it as a hub that drives traffic to you.
First, you'll need your website enhanced using search engine optimization (SEO) practices. This includes keywords to drive traffic. For example, when someone types in "hospital specializing in pediatrics," you want your website to rank first (or at least on the first page) on search engines.
This is what SEO can do for you.
If you aren't getting the traffic you want, this could be why. Local SEO, in particular, is important because studies show that 35% of consumers search the internet for local businesses multiple times a week, while another 21% search daily.
Second, your website needs to have all of the information a person would need to consider and decide to go to your practice:
Answer frequently asked questions (FAQs)
Share info about your providers
Share your expertise and experience

Specializations

Testimonies

Chatbots or an easy way to contact you

Be optimized for mobile use — a lousy mobile experience will have visitors leaving the site. This can be significant since

78% of

local searches from mobile devices lead to purchases within 24 hours

.
Utilize Pay-Per-Click and Display Advertising
SEO is an organic marketing strategy to gain greater visibility online. However, even when your site ranks number one for a search term like "doctor in Sacramento," there are still three or four paid ads above you that people will see first!
These ads are pay-per-click (PPC) ads. They are digital ads that advertisers purchase from publishers, paying by the number of clicks your ad receives. PPC ads are targeted to catch these search terms and direct visitors to your website.
According to SmallBizGenius, using PPC ads on Google can increase your brand awareness by 80%, appeal to 53% of mobile users, and earn you $2 back for every $1 spent (that's a 200% ROI rate!).
On the other hand, display advertising attracts your audience to take a specific action. They're often located on websites, social media, and apps in various appealing formats — banners, text-based, image, or video. The digital display ads encourage users to click through to a landing page and take action, depending on your healthcare marketing goals.
SmallBizTrends reports that native display ads, in particular, earn brands 52% more views and 18% more purchases. For your healthcare display ad to be native, it must be:
Organically part of the publisher's site — similar design, colors, etc.

Soft-selling — barely looks like a promotion

Considered 'a piece of content' as opposed to an ad by consumers
Leverage the Power of Social Media Marketing
There are more than 4.55 billion active users on social media. The same report notes that users spend an average of two hours and 27 minutes on social media, with the success of any brand on a platform depending on its industry.
For healthcare, the top three social media platforms are:
1. Facebook
2. YouTube
3. Twitter
Organic social media marketing, owned and controlled by your organization, includes posting info, updates, and photos to social platforms. The most successful practices on social media regularly interact with followers, stay up-to-date on best practices (hashtags, topics, preferred formats, etc.), and post several times a week (typically on a schedule).
Paid social, however, is a better way to reach the right people who may be looking for your services—even if you're not already connected. This is where you pay for your message to be promoted on the platform. Popular platforms for paid social include Facebook, YouTube, Instagram, and many doctors and dentists are also posting on TikTok.
To stand out, you'll want to find creative ways to add value and share medical knowledge that people are interested in. The benefits of social media for healthcare businesses are that it can increase brand awareness, expand your audience, drive more people to your services, and help you connect with target consumers on a level that encourages:
Brand loyalty
Recommendations and referrals to friends, family, and other social media users
Repeat purchasing
More susceptibility to new products
Healthcare Digital Marketing Campaigns with McClatchy
For the best results in social media marketing, PPC and display ads, and website optimization, partner with McClatchy. Our team of advertising experts is equipped with the best strategies for advertising and the most innovative digital marketing methods for healthcare advertising to maximize your practice's potential.